Checkout Best Soccer Player Tattoos; From Ibrahimovic's Lion To Messi's Jesus Depiction (Photos)

By Mod2 3 months ago 90
Sports - Top Stories
---
Soccer stars have thrown up some of the most astounding tattoos over the years

Soccer is more than just a game these days. It is perhaps the most popular sport globally and has fans from all corners of the world. Soccer players, as a result, are high-profile celebrities with huge fan followings and their lifestyle choices generate massive interest.

Their hairstyles, accessories, automobiles and clothing choices are scrutinised. Another aspect that is often in the spotlights are players' tattoos.

Many current and former soccer stars have stunning tattoos on their body, from Zlatan Ibrahimovic and Lionel Messi to Memphis Depay and David Beckham.

The tattoos could be of various designs, ranging from animals to mythical creatures and from divine figures to trophies they've won.

Many soccer stars even have personal tattoo artists and getting inked after a personal accomplishment is not uncommon.
Here are some of the most famous tattoos in soccer.
David Beckham

As much as he is known for his free-kicks and pinpoint crosses, David Beckham was also famous for his haircuts and wardrobe choices.

But the former England captain also has a variety of tattoos all across his body, especially on his arms and back.

There is a crucifix with wings on his back that probably stands out most, apart from numerous other tattoos like the names of his kids.

Lionel Messi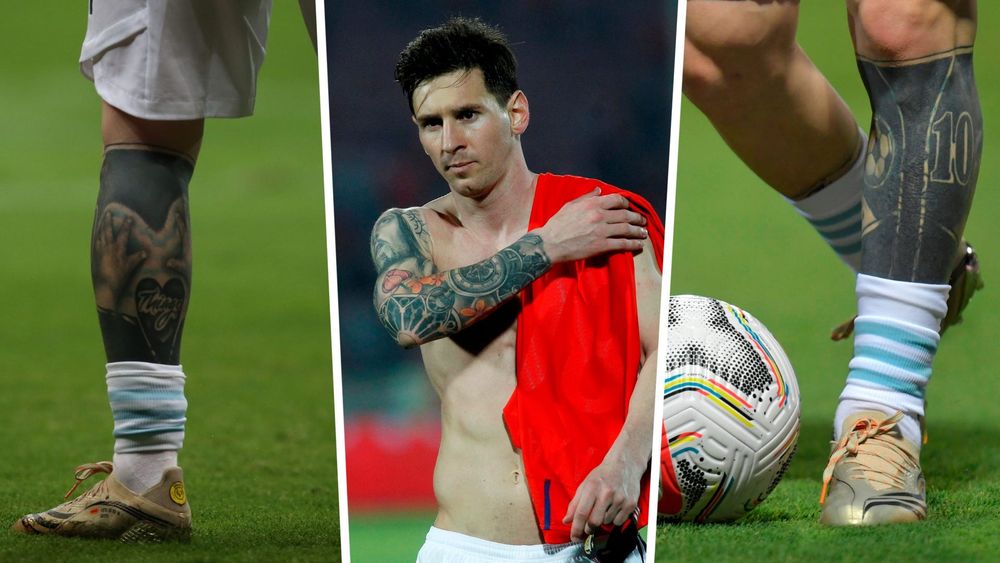 Lionel Messi, one of the best players in the world, has many tattoos across his right arm, back and legs.

Some of his tattoos include a portrait of Jesus Christ, his wife's eyes, a lotus flower, his son Thiago's hand prints, as well as his jersey number 10.

Zlatan Ibrahimovic
It is only fitting that Zlatan Ibrahimovic, the ageless warrior, has plenty of astounding tattoos all over his torso.

In keeping with his larger than life image, the most prominent among those is the tattoo of a ferocious lion on his back.

Or is it Zlatan depicting his "inner lion"?


Memphis Depay
Talking about lions and tattoos, how can we not include Memphis Depay in this list?!

The Netherlands forward has a huge lion tattoo that takes up his entire back.


Nicolas Otamendi
The former Manchester City centre-back has some quirky tattoos.

However, the most interesting ones are on his back where he has inked famous characters from various TV shows like Prison Break, Peaky Blinders and Breaking Bad.


Ederson
Manchester City goalkeeper Ederson has an exquisite tattoo collection, to which he keeps adding.

While there are religious tattoos and more on his back, the most interesting one is beneath his right ear and the side of his neck where a skull can be seen being crushed by a rose of some sorts.


Neymar
Can Neymar be far behind on the tattoo game? Of course not!

The Brazilian superstar has more than 40 tattoos across his body, arms, legs and fingers.

Some of the striking ones are his mother's portrait on his right upper arm, while there's also a Champions League tattoo on his calf and his sister's face as well.


Danielle De Rossi
Former Roma midfielder Danielle De Rossi was one of the toughest players out there.

He also had his share of tattoos, the most interesting one being a "tackle hazard" tattoo on the back of his right calf. Maybe he was sending a message to his opponents.



Sergio Ramos
Former Real Madrid captain Sergio Ramos has an exquisite collection of inks.

His back is completely filled with various tattoos, including a lion, Jesus Christ and other symbolic images. There is even a tattoo of the Champions League trophy on his left leg.


Joe Hart
Celtic goalkeeper Joe Hart also has some interesting tattoos.

The former Man City custodian got himself a tattoo of an armour, which has got to be up there as one of the more original designs.

Well, he's supposed to be the armour of his team as a goalkeeper. So, figures right?



Dani Alves
Former Barcelona full-back Dani Alves has his share of tattoos which include the Olympic rings, his mother's face and many other symbolic ones.


Nigel de Jong
Nigel de Jong was one of the toughest players during his time.

In keeping with his playing style, the Dutchman has a variety of tattoos across his back, chest and arms.


Tim Cahill
Former Everton forward and Australian legend Tim Cahill has a Samoan sleeve inked on his arms, a depiction of his roots.


Martin Skrtel
The Slovakian defender has some brilliant ink over his arms and body.

The former Liverpool player has an angel with wings on his back, Parsi writing on his arms and more.

Kevin-Prince Boateng
Another player with some serious ink all over his body is Kevin-Prince Boateng.

Interestingly, he's got a quote across his chest that reads "Love is Pain and Pain is Love".


Alberto Moreno
Former Liverpool full-back Alberto Moreno loves his ink.

He's got some stunning tattoos over his legs and arms, the most striking of which is a chimpanzee holding a gun.


Marco Materazzi
2006 World Cup winner Marco Materazzi might have been infamous for the Zidane head-butt incident but the Italian also has some brilliant tattoos.

He's got his name and his wife's name on his back, a dragon with a star on his chest, names of his children and many more.



Mauro Icardi
The Argentine striker has a full-body lion tattoo that looks stunning.

He's also got portraits of his daughters, Isabella and Francesca, inked on his legs.



Dele Alli
Everton midfielder Dele Alli is also a fan of tattoos.

In fact, he's got a tattoo of himself on legs, apart from a variety of other inks over his arms and fingers.

Some of them have been inspired by cartoon characters as well.


Djibril Cisse
Former Liverpool and France striker has more than 30 tattoos across his body, some of which are striking to say the least.

He's got a tattoo of tiger paws on his arms, devil mask on his arms, a spider web and what not.
[NewsNaira]
---
Share this article!
<!—- ShareThis BEGIN -—> <!—- ShareThis END -—>
Others are also reading