How a Nigerian scheme forged in war creates billionaires

---
How a Nigerian scheme forged in war creates billionaires
1 hour ago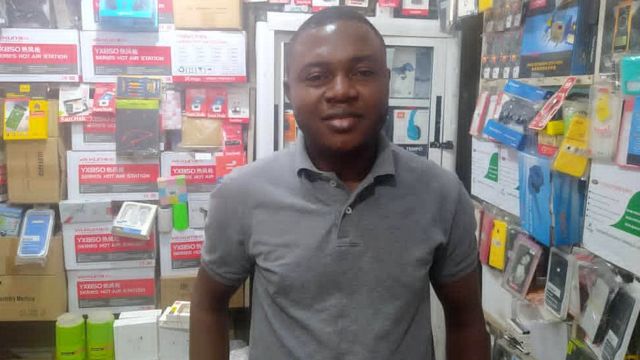 Image caption,
Onyeka Orie says he did not expect to be given a shop
Nigeria's Igbo community have a reputation for being highly successful businessmen - partly thanks to a community-run apprentice scheme that emerged from the ruins of war, writes the BBC's Chiagozie Nwonwu in Lagos.
A smiling Onyeka Orie, 28, looks the picture of happiness in his mobile phone accessories shop at the sprawling Computer Village in Nigeria's main city, Lagos.
The shop and everything in it had been given to him by his former boss after Mr Orie worked for him without payment for several years, learning the trade.
"I served my oga [boss] for eight years. My oga gave me this shop. I had been managing the shop for four years before he gave it to me. I didn't expect it," an excited Mr Orie says.
Born to farmers in south-eastern Nigeria, he said he had little chance of breaking out of poverty because his family could not afford to give him the education he needed to get a good job in a country where unemployment is rife, even among those with a university degree.
So after secondary school he joined the trail of other young Igbo men to learn a trade under the apprentice system known as "Igba Boi" - a practice where young people, mainly boys, leave their family to live with successful businessmen.
The boys are expected to "serve" their boss, doing everything for him - including washing his cars and running his domestic errands. In exchange, the boys pick up life skills and are taught how to run a business. They are also given food and somewhere to live.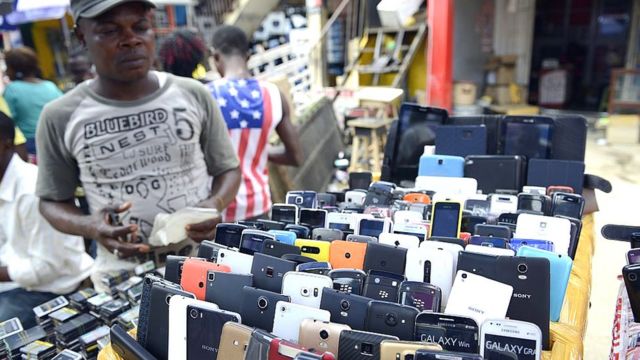 ,
The 2000s saw an explosion in Nigeria's mobile phones market and many trade at the Computer Village in Lagos
At the end of an agreed period, their boss gives them capital to set up their own business.
The Igbo apprenticeship system has roots in Nigeria's post-civil-war years, says Ndubisi Ekekwe, a Nigerian professor whose article on the apprentice scheme is set to appear in the Harvard Business Review later this month.
The Igbos, emerging from defeat following the 1967-70 civil war, managed to recover a significant portion of their pre-war economic status within just two years.
This was despite the Nigerian government confiscating bank accounts belonging to many Igbos. It then gave them just £20 ($28) to start anew, while others saw their property seized by neighbours in some parts of the country.
The Peoples Club, a popular social club formed in the town of Aba in 1971, is also credited for kick-starting the Igbo apprenticeship scheme.
The ethos of the club, the Igbo philosophy of "onye a hana nwanne ya" (don't leave your brother behind) is seen as a guiding principle of the scheme.
"The Peoples Club was a social-cum-economic movement…[that] designed an economic template of how the Igbo could move out of the ruins of the war and began a new movement of survival," says Benedict Okoro, founder of the Odinala Cultural Heritage Foundation. "That is the genesis of the Igba Boi in Igbo cosmology."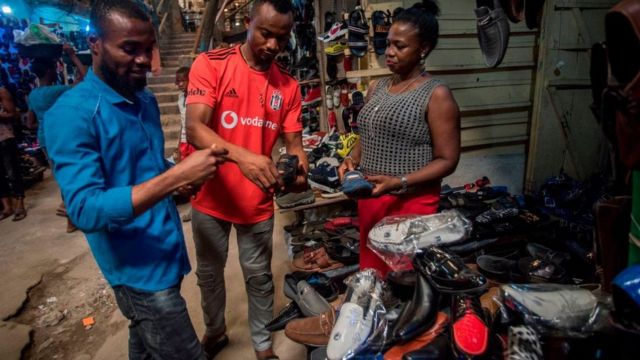 ,
The Ariaria market in Aba is popular for Nigerian-made products, some of which are exported
The apprentice system is mostly aimed at boys and young men as families are generally unwilling to let their daughters live with a businessman for the five years or so it takes to learn a trade.
Women instead usually learn at established businesses where they pay to be taught for six months to one year, while still living at home.
[NewsNaira]
Abayomi
Chukwu
Amos
---
Share this article!
<!—- ShareThis BEGIN -—> <!—- ShareThis END -—>
Others are also reading