Man Outsmarts Girlfriend in A Leaked WhatsApp Chat After Asking for N200 MTN Airtime

---
The viral SWAN is a new voluntary group of men who have resolved to stop spending a dime on women. Of course, to every action, there should be a reaction.
This is why women too flagged off Sting Women Association of Nigeria (SWAN). Here, women resolve to close their legs!
In SMAN, members are to uphold the integrity of the association with due diligence to never give a dime by any means of financial exploitation to the other gender! There are strong sanctions or severe penalties for defaulters appropriately.
Here is a member, Kenneth Elijah who upheld the association's oath in a leaked WhatsApp chat he had with his girlfriend. The lady who needed N200 airtime had complained of rain for not going out to buy it. She gave the excuse just in a bid to outsmart Kenneth!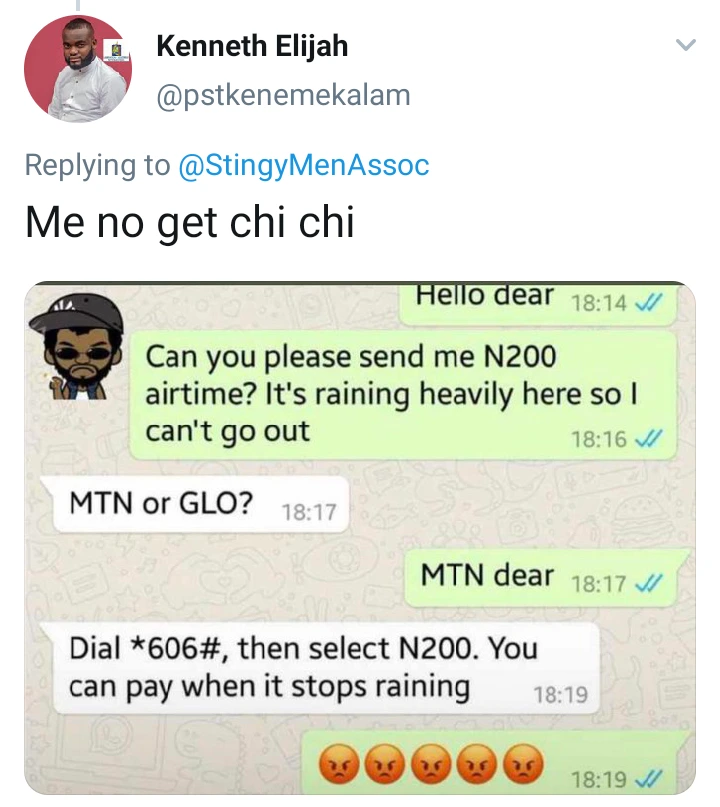 However, as a loyal SWAN member, Kenneth then smartly instructed her to dial a MTN code and borrow the airtime. And when the rain drops, she could go out, buy and settle the debt! 
What a smart guy! In fact, I have also signed up for 'Stingy Men Association of Nigeria' (SMAN) and my ID card is on the way! Below is another case that happened yesterday:
A member's girlfriend threw away a bucket of beans because of the weevils. Guess what, the association came and gathered the beans. Today, the beans was used to fry 'akara'.
[NewsNaira]
---
Share this article!
<!—- ShareThis BEGIN -—> <!—- ShareThis END -—>
Others are also reading